Shauna's Life in Napa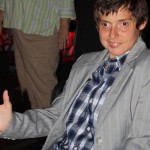 How I came to Napa: I came to Napa in 2005. I was only supposed to be here for 6 months. It's been a long 6 months that has now turned into a permanent home that I've grown to love.  Napa is now my home.
My house: I live in a duplex walking distance to downtown Napa. I have access everything I need; Safeway, Wal-Mart, Kohl's and very nice restaurants that accommodate me (Shot out to Trancas Steak House!)
My Doctors: All of my Doctors are the best around and make me feel comfortable about my disability and other issues
My friendships over the years: I have made many friends, some I work with, and others throughout the community that I met in social outings over the years. My best friends are Natasha, she's funny and she takes me on nice drives where we dance and sing along to music, Teri and Robin take me golfing and have helped me increase my abilities, and Keva manages my house. Keva has been with me for 4 years. She makes me laugh and is someone I confide in and she doesn't judge me. My closest friends work with TLC but are really my friends.
~Shauna Downing
Napa CA